*This post may contain affiliate links. As an Amazon Associate we earn from qualifying purchases.
The Regal Crown Club is a reward system developed by Regal Cinemas for loyal moviegoers that attend their theaters. Those interested to become part of this program will earn rewards by watching movies and making concession purchases in partnered venues. Using the online Reward Center, moviegoers are able to swap their earned points for various concession items, merchandise, or even other movie tickets. Those truly dedicated can take part in the national sweepstakes which give members the unique opportunity to receive special offers and exclusive previews to upcoming movies. Without further ado, keep reading for our Regal Crown Club login guide which details the steps you need to acquire the membership and access your account at www.regmovies.com.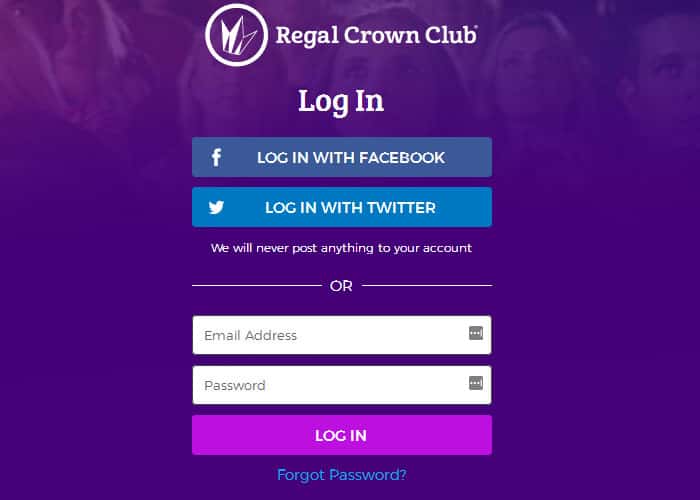 Regal Crown Club Login Guide
Before you can gain access to all the benefits of a Regal Crown Club member, you must register an account. Doing that is incredibly easy and barely requires any time. Here's how to do it:
Head over to the Regal Cinema homepage, which you can find at www.regmovies.com
On the top bar, between Theaters and Gift Cards, click on Royal Crown Club. If you're having trouble locating the link, type www.regmovies.com/crown-club#/account/login into the address bar to directly access it.
Scroll to the bottom of the login section and click on Sign Up. Note that the registration form opens on the same page, so don't try to open it in a different tab.
Fill in the blank fields with the information required. Make sure to check the terms and conditions section and to complete the captcha in order to proceed.
Finalize the process by clicking on Sign Up.
*Note: If you've opted for the virtual card feature, you'll also have to get through this step.
Once your account is set up, you may proceed to log in and reap the benefits of the membership. Follow these steps in order to sign in:
Follow the same two first steps as above.
Scroll down a bit and type your email address and password in the designated fields.
Click on Log In and finalize the process.
Mobile/Alternative Regal Crown Club Login Guide
For quicker access, Regal Cinema also offers the possibility to log in using either your Facebook or Twitter accounts.
Simply click on the appropriate button found on the login page of Regal Crown Club.
A popup page will open, asking for your consent to connect to your respective pages.
Authorize the connection.
Members can also access their accounts by using their preferred mobile device. To do so, they simply have to access the Regal Crown Club page and follow the exact same steps mentioned above. You may also sign in using your Facebook or Twitter accounts.
As of now, there are no mobile apps available for download and installation.
Regal Crown Club Troubleshooting
The most common issue you may encounter is forgetting your password. In case this happened to you, solve it like this:
From the login page, select Forgot Password?
This will bring a new form where you have to type your email address and confirm you're not a robot by completing the captcha.
You will receive an email with instructions for password recovery.