*This post may contain affiliate links. As an Amazon Associate we earn from qualifying purchases.
DateHookup claims to be one of the biggest online dating websites around. With thousands of singles waiting and all kinds of preferences to pick from, it offers a strong base for those seeking love in the modern era. The website has a basic premise and a simplified navigation system that makes it really easy to find people, pick your favorites, chat with them, and filter your searches for matches according to your requirements. Below, you will find a DateHookup login guide which takes you through the steps of setting up an account and accessing it. Keep reading to also find the answers to some of the most common troubleshooting questions.
DateHookup Login Guide
In order to sign into your account and begin your quest for love, you need to have a registered account. You can open one fairly easily, leaving you able to get to the business that really interests you in basically no time. Find the join button and simply follow through with the instructions on the screen.
With your account all ready to go, you can now log in and start tailoring your experience. In order to sign in, you need to follow these steps:
Access the homepage at www.datehookup.com.
On the left sidebar, you will find the login section labeled Quick Sign In.
In the empty fields below, type your username and password. Your username goes in the first box, whereas your password goes in the second. Both of these credentials are a result of the registration process.
You may check the Remember Me option if you wish for your browser to memorize your credentials. Don't do this if you are logging in from a public computer.
Click Sign In to finalize the process.
*Note: If, for some reason, you cannot login from the side bar quick sign in, you can access the login portal directly by heading over to www.datehookup.com/login. Follow the same steps described above to access your account through it.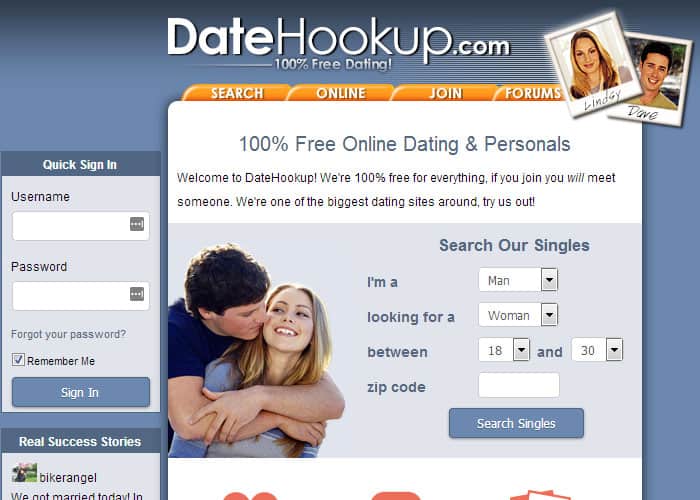 Mobile/Alternative DateHookup Login Guide
DateHookup has a mobile variant of their website, with the login process slightly differing from the computer version. Here's how to access your account using a mobile device:
Launch your chosen browser and access the mobile website: datehookup.com.
On the blue bar at the top of the page, tap on Sign In.
This will take you to the login portal, where you'll proceed to login the same way as above. Enter your username in the box with the appropriate label and your password in the one underneath.
As of now, DateHookup doesn't have an application that you can download and install on your device of choice.
DateHookup Troubleshooting
In case you've forgotten your password, you can reset it the following way:
On the homepage, click on Forgot your password? You can find it on the quick sign in sidebar.
On the new page, type your username or email address.
You will receive an email with a link that you have to click on to be able to reset your password. This means you'll have to choose a new password, not that you'll recover your old one.