*This post may contain affiliate links. As an Amazon Associate we earn from qualifying purchases.
Yahoo Mail is one of the most popular email providers currently in use, mainly because of their functionality, sleek design, and widely-known brand name. Creating an account is simple and straightforward. After you set up your account, the Yahoo mail login steps are very easy. Below you will find the yahoo com mail login instructions.
Yahoo Mail Login Guidelines
Here are the straightforward steps to login to Yahoo Mail:
Head to the Yahoo Mail sign in page.
Enter your Yahoo email address ID.
Hit the blue 'next' button.
Enter your account password.
Hit the blue 'Sign in' button and access your email account!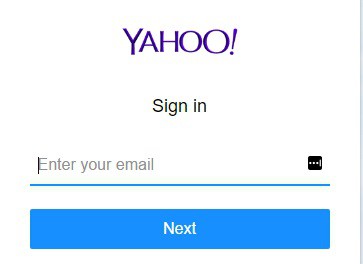 Yahoo Mail Login Guidelines for Mobile Devices
Yahoo Mail is also available as an app for both Android and Apple (IOS) devices. Here are specific instructions for mail yahoo login for both Android and Apple devices:
Yahoo Mail Login Guidelines for Apple Devices
Go to the App Store on your iPhone or iPad and search for Yahoo Mail.
Install the free Yahoo Mail app on your Apple device.
After install is finished, tap the 'open' button in the App Store, or find the Yahoo Mail icon on your home screen.
Select the option 'Sign in'.
Continue from step two above.
Yahoo Mail Login Guidelines for Android Devices
Go to the Google Play store on your android phone or tablet.
Install the Yahoo Mail app.
Once install is complete, tap the green 'open' button.
Select 'Sign in'.
Continue from step two of the login guidelines.
Yahoo Mail Login Additional Troubleshooting
Having trouble logging in to your account on Yahoo Mail? Here are some tips to fix common Yahoo mail login problems:
Lost Password
Enter your Yahoo ID.
Hit 'next'.
Click 'Forgot password?'.
Yahoo will send an Account Key either to another email account that you have access to or in a text to your phone.
Enter the Account Key and click 'Verify'.
Select the account to reset, and click 'continue.
Error: 'Mobile Locked'
When multiple attempts to sign in with your Yahoo ID on a mobile device have failed, your account is blocked on mobile devices. To fix this problem, follow these steps:
On a desktop computer, go to the Yahoo Mail login page.
If you are logged in, click 'Is this not you?'.
Use the sign in instructions above.
Try again to sign in on a mobile device.
Yahoo also provides troubleshooting help for desktop users on their website. Specific help is also provided for those who are using the Yahoo Mail app on Android or Apple devices. Help for issues relating to your account is also available.