*This post may contain affiliate links. As an Amazon Associate we earn from qualifying purchases.
MDES stands for the Mississippi Department of Employment Security. The mission of this organization is to help reduce unemployment in Mississippi by providing inhabitants with job opportunities through well-tailored job centers. Moreover, unemployed and employed people alike get the chance to join various skill honing programs that can help them fill up their resumes with better abilities. Another amazing service is offering financial compensation to Mississippians that have lost their jobs due to factors that have nothing to do with themselves. However, in order to gain access to their list of benefits and browse the job center, you need to log into your account. This is what our MDES login guide will help you do.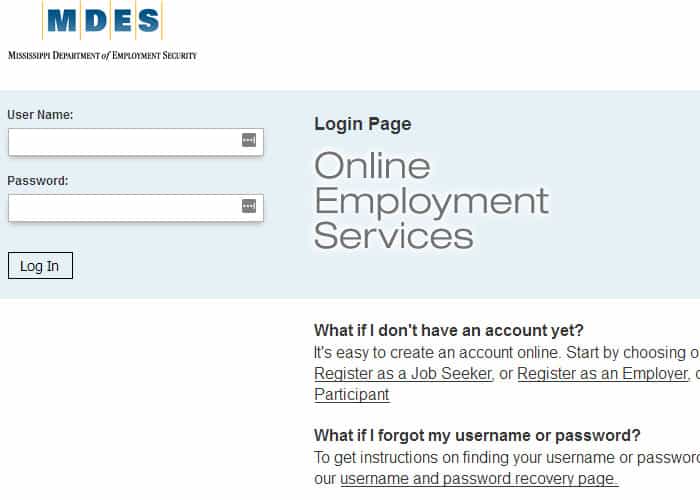 MDES Login Guide
In order to login, you must have first registered and created an account. This is a process that you must carefully think through and pay attention with. New users can register three different types of accounts: job seeker, employer, and a WOTC participant. Likewise, when you will eventually try to sign in, you will notice that there are two different sections to choose from as well. To find information regarding the various registration types and other useful links, visit the MDES authentication portal.
Once you're sure you have your account and you've set everything up nicely, you can continue with the actual logging in process. And here is what you need to do.
To begin, visit the accessms.mdes.ms.gov address, which we've also mentioned before.
For the employer login: look at the 'Employer Services' column to the light. At the bottom of it, you will see the 'Login' button. Click on it.
Now on a new page, you will see the login portal. In the first blank field, type the username you created while registering. Press Tab or move manually the cursor to the field below, where you will enter your password.
For the job seeker login: look at the 'Claimant Services' column to the right. Click on the 'Login' button at the bottom of the links.
On the new page, type your username and password in that order in each respective field.
Mobile/Alternative MDES Login Guide
You can also access MDES and all its features using a mobile device as well. In order to do so, you just have to launch the browser of your choice and visit the authentication portal you're using for the web login as well. After that, follow the same steps as above.
Identify your login type and click on the link underneath the appropriate column.
Type your username and password in the specially-designated fields.
As of now, there are no mobile apps that you could download for an alternative access method.
MDES Login Additional Troubleshooting
Did you forget your username and password?
On the claimant login portal, there is a header reading "What if I forgot my username or password?" Click on the link provided there to access the recovery page.
To retrieve your password, simply enter your username to receive an email with instructions. For a forgotten username, however, you must contact the online help desk. You can find these details, as well as a phone number for customer service, to the right of the recovery page.