*This post may contain affiliate links. As an Amazon Associate we earn from qualifying purchases.
MyBMV is a service for all automobile users who wish to have the management of their driver's license (and more) on the tips of their fingers. By creating an account on their official website, users gain access to a multitude of online services. Drivers can renew or request replacements for their licenses. Those interested in testing their skills can schedule an appointment regardless of whether they are Indiana residents or not. And, other than that, there is a myriad of other features you can explore. But before that, you need an account. And to access your account, you'll need to follow the steps detailed in this Indiana BMV login guide.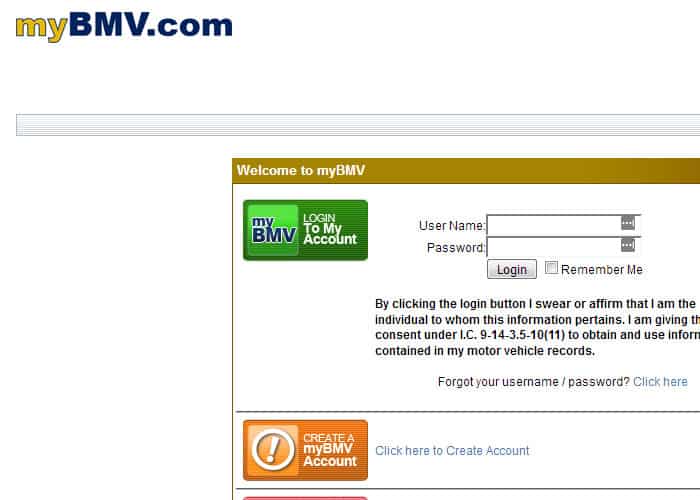 Indiana BMV Login Guide
In order to login on the Indiana BMV website, you must first have an account set up. If you don't have one already, you will need to go through the registration process. Luckily, it's fairly easy and you can avoid unwanted complications by going through the steps detailed in the guide below.
Head over to the Gov homepage.
Scroll a bit until you find two rows with four buttons each. The second on the top has the label for MyBMV.com.
Click on Create an Account. Notice: the homepage can be a little bit wonky, so you might notice that it automatically keeps scrolling beneath the section with the buttons that you need.
You are now on the account portal, where you can login, create accounts, or renew license plates without the existence of an account.
Next to an orange button, follow the link that says Click here to Create Account.
On the registration page, choose whether you are registering as an individual or a company.
Depending on your choice, fill in the correct information requested by the form.
Once you have an account ready and set up, login the following way:
Return to the account portal.
Type your login credentials in the empty fields next to the green button at the top of the page.
Click Login to finalize the process.
Mobile/Alternative Indiana BMV Login Guide
You can also login from a mobile device by accessing the account portal through your browser of choice. MyBMV does not have a website adapted to mobile, so all the steps of the sign in process will be the same.
There used to be an app called MyBMV, which allowed users to perform various operations. However, it's currently highly outdated and incompatible with most devices, although it might still work on older versions.
Indiana BMV Troubleshooting
In case you've forgotten your login credentials, you can recover your information the following way:
On the account portal, you will find underneath the login section a message that reads: "Forgot your username / password?"
Click on the link provided.
This will redirect you to a page that resembles the registration form.
Complete the form by inputting the correct information.