*This post may contain affiliate links. As an Amazon Associate we earn from qualifying purchases.
CFNA Firestone is a service – a type of credit card, to be exact – offered by consumer finance lender Credit First National Association (CFNA). If you've recently signed a deal for the Firestone credit card, you will rejoice to know that managing it is one click away. You can practice hassle-free financing and have access to 24/7 account management. However, some might find the signing in process a bit difficult. This is because of CFNA's security measures which add an extra step compared to other login types. For this reason, we've written up a CFNA Firestone login guide that will help anyone in need of thorough explanations.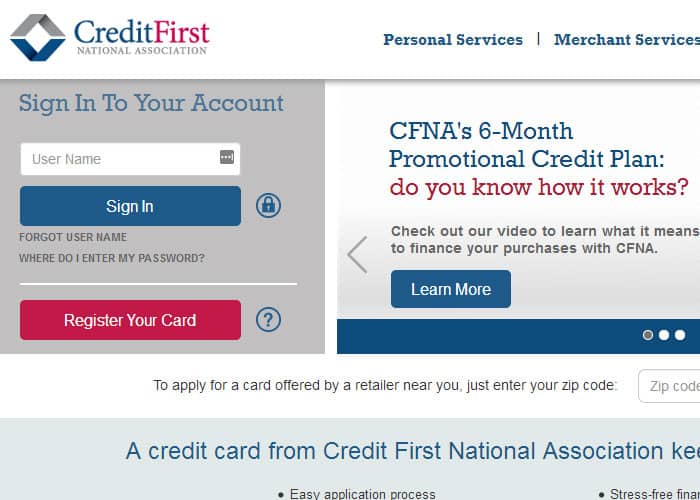 CFNA Firestone Login Guide
Before you can sign in to your account, you have to register a card. This is a three-step process that you can easily get through from the comfort of your home, online. To do that, you have to head over to https://www.cfna.com/web/personalservices/register-your-card and fill the information on the screen according to the instructions, proceeding through the various steps.
You will know that you have all the information you need for signing in once you receive a username and a password. The next immediate step is accessing your account. But before we get there, we have to mention the CFNA Sign In Key. Despite the name, it's not a code or a number, but a three-step process of authentication which helps users tell the legit CFNA website apart from fake, possibly dangerous ones. Here's how this sign in key is involved in the login process and what you need to do with it.
On the main page, that you can locate at www.cfna.com, find the Sign in to your account link. You can locate it to the left of the screen.
Input your username and then click Sign in.
If this is your first time logging in, this is the time where the sign in key comes into play. CFNA will ask you to configure your settings for this authentication process.
Select an image, a phrase, and three verification questions with three answers.
This will redirect you to the password input page.
From then on, you will automatically go to the password input page after typing in your username. It's highly important to make sure that the image and phrase you see are the ones you've selected. If not, do not type your password as your sensitive information could be compromised.
Mobile/Alternative CFNA Firestone Login Guide
To access your account from a mobile device, follow the same steps. Visit the homepage using your favorite mobile browser and locate the sign in area. Enter the login credentials you use for the web login. If this is your first time signing in, you will have to undergo the sign in key process via mobile.
CFNA does not currently have a mobile application.
CFNA Firestone Login Additional Troubleshooting
The most common issues you can encounter are forgetting your username, password, or security question answers.
If you forgot your username or password, head over to the Sign in screen where you will select Forgot Username or Password. There, you will have to go through a procedure and input information as prompted by the screen.
In case you've forgotten your security question responses or you're struggling with other login issues, talk to a representative at the contact page.