*This post may contain affiliate links. As an Amazon Associate we earn from qualifying purchases.
The CCS, shortened version of the Crew Communication System, is a web-based platform belonging to United Airlines. This portal is for the company's pilots to access and utilize, to receive, and to check important flight-related information and other types of data. Benefitting from a user-friendly interface that's easy to navigate, the platform has numerous features. Pilots are able to check their schedules, access weather applications, company communication, training platforms, flight planning systems, and many other services. Of course, in order to gain access to all of these, you need to sign into your account. This is what this CCS Coair login guide is going to help you with, among several other issues and things to keep in mind.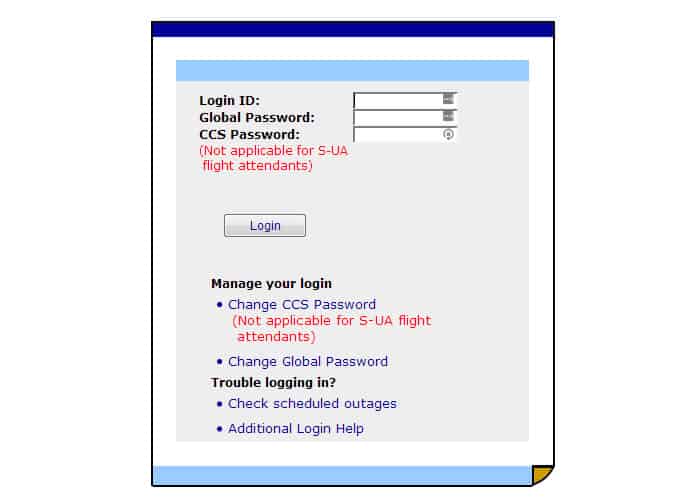 CCS Coair Login Guide
In order to be able to login to your account, you have to utilize information received from superiors outside of the web application. Here is what you need to do to sign in:
Access the CCS portal ual.com, which you can head over to by accessing the ccs.ual.com page. Either click on our link or manually type the address into the browser's bar.
You will see the login section which displays empty fields that you must fill in with the credentials you should already be in possession of.
Type u + your 6-digit file number in the Login ID field.
Next, you have the Global Password field. There, you must input your Flying Together password. Said password has to abide by some rules. Most notably, it can't contain certain banned special characters such as exclamation marks or dollar signs.
Lastly, you have the CCS Password field, where you must type your CCS password. For the first-time login, your password will follow a certain structure. The letters CMS + the first three letters of your month of birth + the year of your birth. As a result, if you were born in June in the year of 1967, your password will be CMSJUN67. After signing in for the first time, however, you will receive a notification asking you to change it.
To finalize, click Log In or press Enter.
Mobile/Alternative CCS Coair Login Guide
In order to access the CCS homepage from your mobile, you have to follow the same procedures as mentioned above. Launch your browser of choice, type in the address of the portal, and continue accordingly.
Accessing the web address isn't the only way to reach the login portal, however.
If you are in a base or a flight planning area, you can use one of the computers located there and access the portal by launching the CCS icon from the desktop.
Alternatively, you can also go to Flying Together's Flight Ops section, where you can access CCS from.
CCS Coair Troubleshooting
In case you are having trouble with passwords, head over to the Account Support page on CCS. From there, you can change your CCS and Global Passwords and recover your Global Password in case you've forgotten it.
For other types of logging in issues, you can check the scheduled outages page.
Finally, if you're still experiencing issues and they don't have solutions mentioned above, reach for assistance through one of the two phone numbers listed on the Account Support page.